Leisure facility village following dynamic Sekinoo waterfall and potholes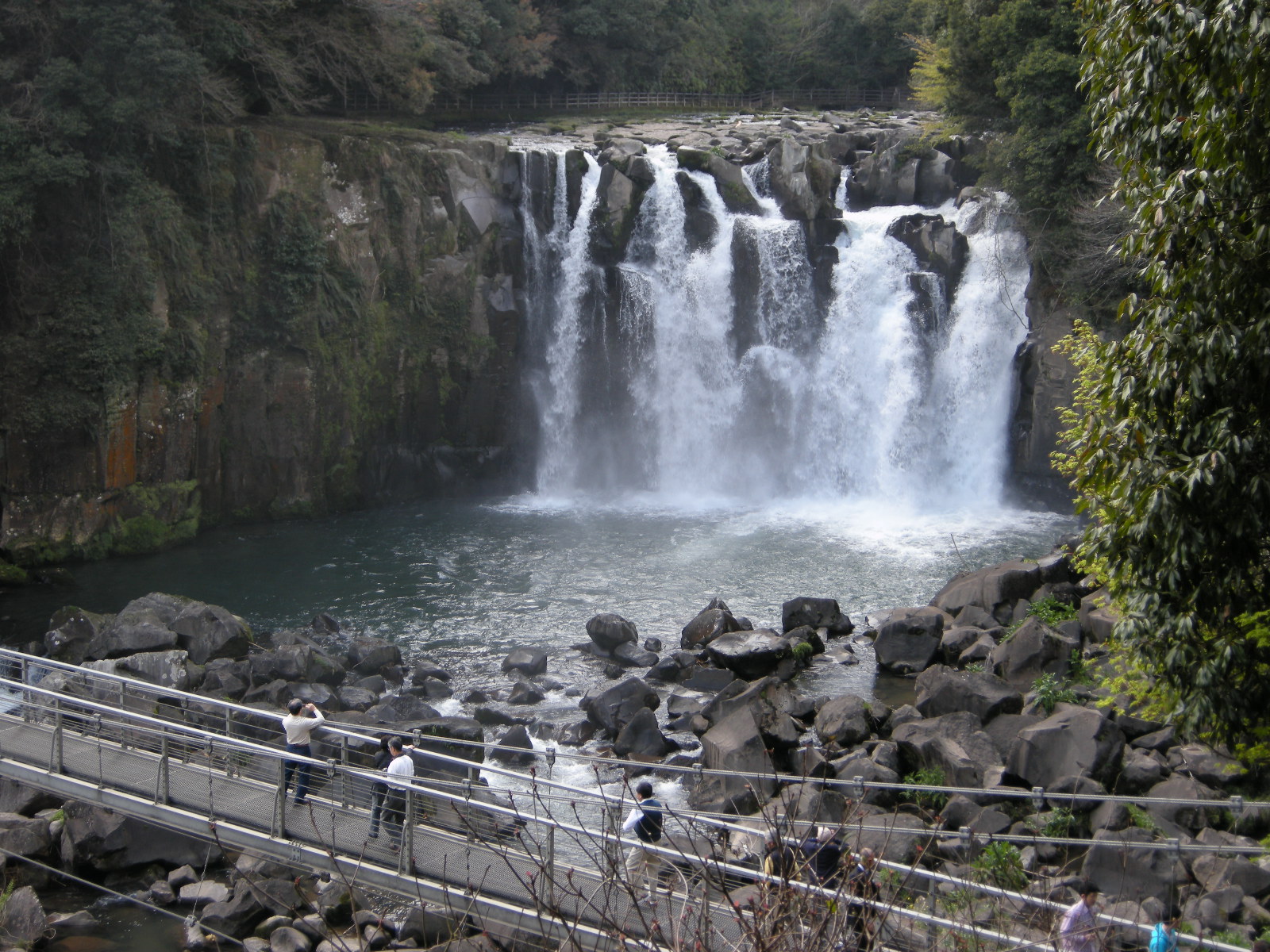 Sekinoo-taki falls on the tributary Shonaikawa River in the Oyodogawa River, and consists of Otaki (width 40 m, height 18 m). There is a suspension bridge in front of the waterfall, allowing you to see the waterfall up close, and depending on how far it is splashing and sunlight, you can see the rainbow. Dynamic waterfalls will not get bored if you look for a long time. The amount of water also changes with the season, and shows various expressions.
It is designated as one of the 100 waterfalls in Japan.
Otaki(male waterfall) and Metaki(female waterfall) are man-made waterfalls created by digging rocks during the Meiji era. Otaki is a water intake in the north front canal, and Metaki is a spillage water, and it is said that a wish of marriage is fulfilled from old days because it is a pair of waterfalls that can not be cut off.
The potholes
Upstream of the waterfall is a group of pothole. The clear stream which flowed out of Kirishima Mountain Range flows into the welded tuff layer made of Kakuto pyroclastic flow 340,000 years ago, and it was formed by turning of small stone and rock fragments by the power of water over a long period of time. The potholes that can be seen in many cases is a collection of small bottle-like holes that extend over a length of 600m and a maximum width of 80m, and its scale and number of pits are unique in the world. Designated as a Natural Monument of Japan.
The cause of the potholes. Stones enter the small depressions, and the stones spin in a stream of water, which cuts the holes into potholes.
Waterfall Station Sekinoo (shop and restaurant)
When you come from Miyakonojo city, there is a "Takino-eki Sekino-o" at the entrance of the Sekinoo Falls. Takino-eki means a shop and restaurant of the waterfall which is rare in the whole country. As souvenirs, local products are kept, and there are limited products available only here. Concentrated soft cream is popular, and it is recommended after taking a look at waterfalls and potholes. There is a "Taki no Chaya" restaurant where you can dine, and enjoy "Ga-ne Udon ・ Soba" featuring local cuisine "Ga-ne".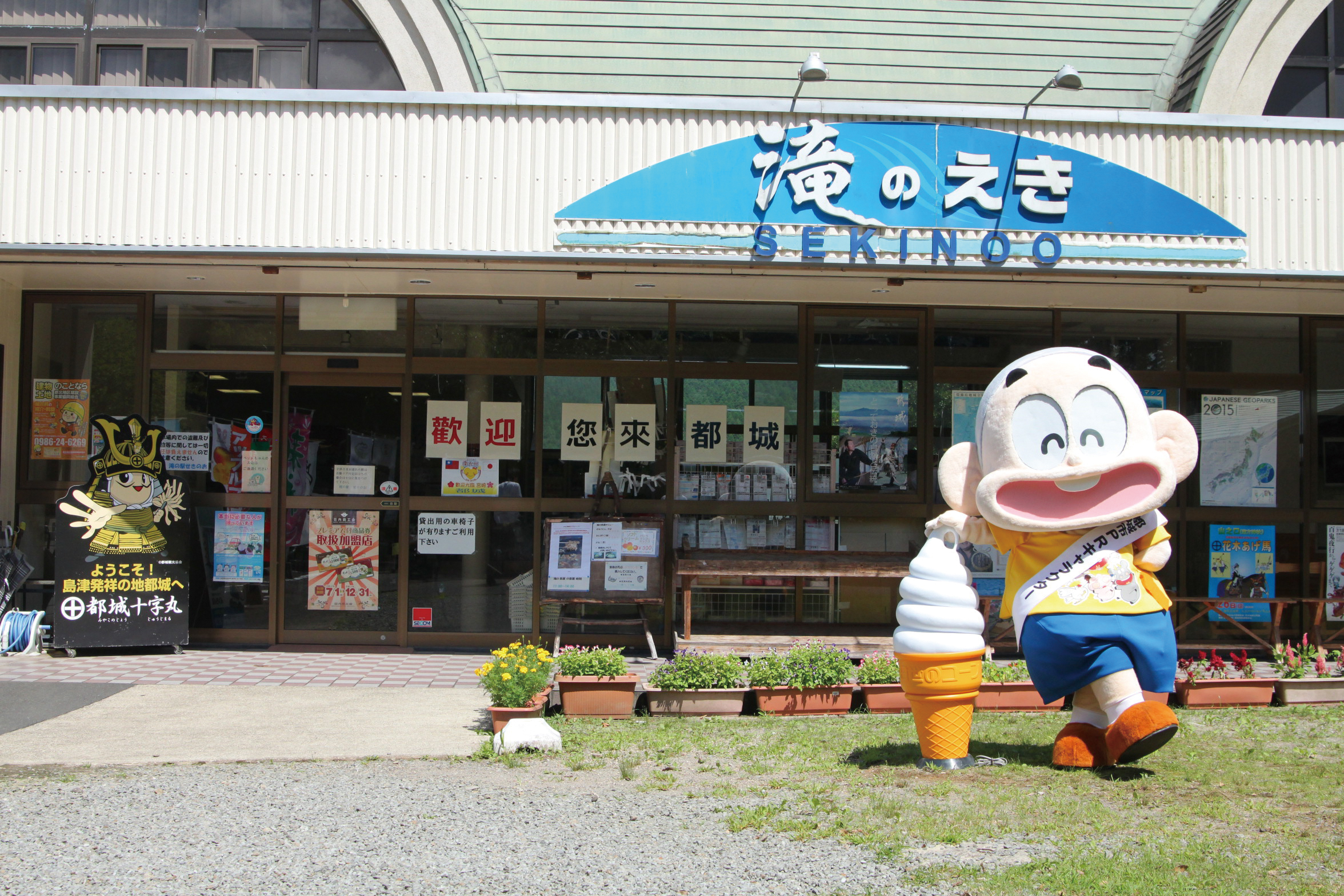 Sekinoo Midori no Mura Park
If you take a walk while watching the Sekinoo Waterfall and the Potholes, you will arrive at the Midori no Mura park located upstream of it. The Midori no Mura is a leisure facility literally surrounded by greenery, with Cabin bungalows, shops, tennis courts, a swimming pool, and barbecue and somen nagashi (Wheat noodle eating). Due to the public establishment, the usage fee is also set low. In spring, you can enjoy cherry blossoms, shakunage, autumn leaves and natural beauty through the four seasons.
It will be closed during the New Year holidays (December 29-January 3).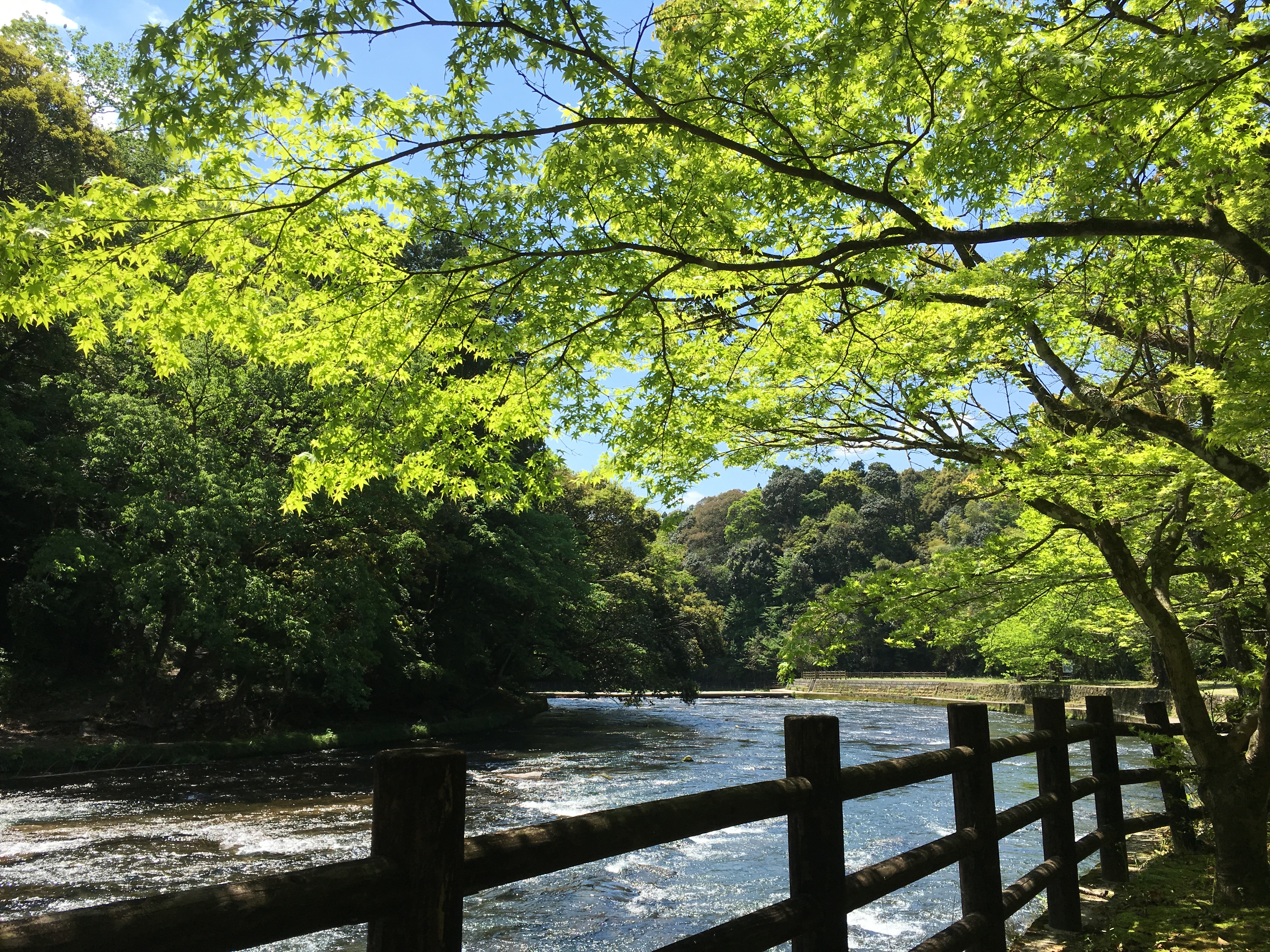 Cabin, bungalow, shop
10 Cabins (for 5 people)
One bungalow (for 10 to 20 people)
1 shop
Natural utilization center (multipurpose use)
Kitchen, bath, refrigerator, air conditioning, toilet, washroom
Tennis court
4 coats
Hours 9: 00-22: 00
Please inquire for usage fee.
Pool
Only during summer vacation
Business hours 9: 00-16: 00
Price 3 years old or older 100 yen
Business will be discontinued during heavy rain and lightning.
Inquiry
Sekinoo Midori no Mura management office
6615 Sekinoocho Miyakonojo City Miyazaki 8850013
Phone 0986-37-2929