Introducing the history and culture of Yagoro Don
The figure of Yagoro Don is displayed, model, videos, and panels are set up to express the Hama Kudari parade, introducing the history and culture of Yagoro Don, whose legend has been passed down in Yamanokuchi Town.
Exchange/training rooms as well as processed food learning room for lifestyle improvement are on the premises.
Please also refer to the website of Processed Food Learning Room for Lifestyle Improvement (Link to the Miyakonojo City Hall Website)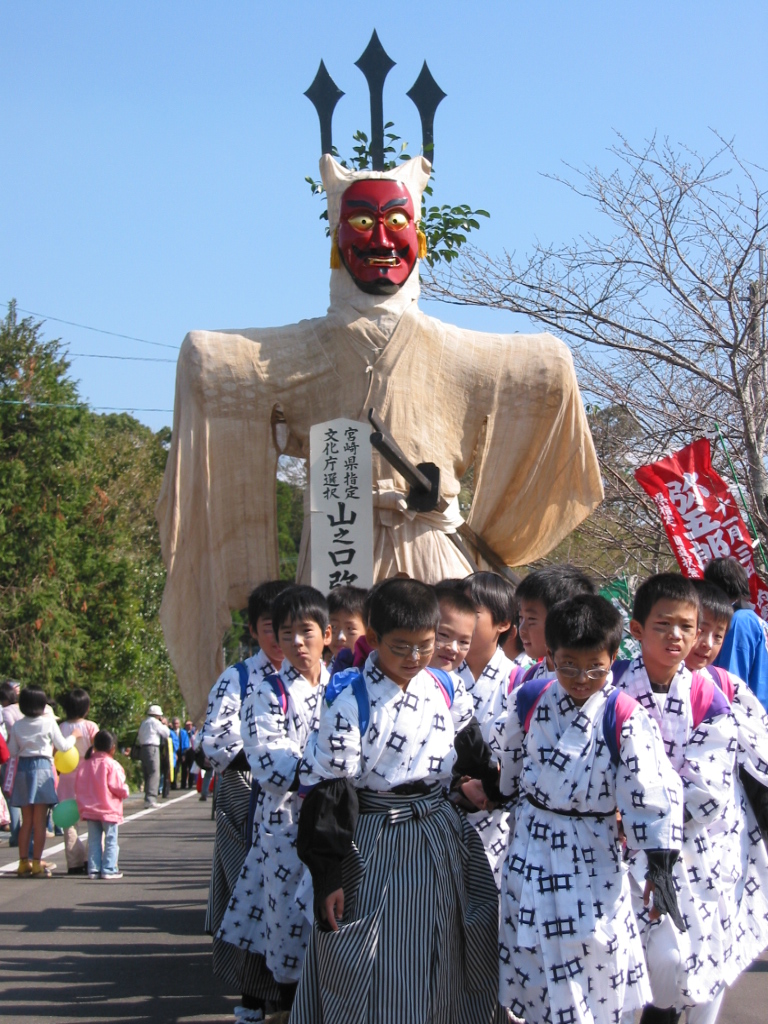 Who is Yagoro Don?
He is supposedly the leader of the Hayato Rebellion in 720 AC during the Nara era (Yoro 4), who fought against the centralized government. This rebellion had been suppressed, but caused heavy casualties as well as cruel executions. Later, a memorial service called "Hojo-e" was held to pray for the souls of Hayato and his followers, which became the origin of today's "Yagoro Don Festival".
The same festival is held in Iwakawa Hachiman Shrine in Kagoshima Prefecture and Tanoue Hachiman Shrine in Nichinan City, Miyazaki Prefecture. Our Yagoro Don in Yamanokuchi is said to be the first son.
Yamanokuchi Yagoro Don Festival
It is a festival held on November 3 at the Maruno Shrine (Matono Shohachimangu Shrine) in Tomiyoshi, Yamanokuchi-machi, Miyakonojo City, and it has been designated as the intangible folk cultural property of Miyazaki Prefecture in 1990.
The statue of Yagoro Don stands up tall about 4 meters, with a red face and black beard, wearing white cloth made of hemp. He is holding two swords, and has three spears going up from the back of his head. There is a Goshinko parade called "Hamakudari" to "Ikenoo Shrine", which is about 600m away from Maruno Shrine, and Yagoro Don takes the lead to stroll around.
Facilities
Address
1702 Tomiyoshi, Yamanokuchi-cho, Miyakonojo-shi, Miyazaki
TEL
0986-57-3713
Hours
9:00 AM to 5:00 PM
* Exchange/training room 1 and 2 and processed food learning room are open from 9:00 AM to 10:00 PM
Closed on
Mondays (if Monday falls on a public holiday, then the following Tuesday)
– New Year's holidays (Dec 31 to Jan 6)
Parking
Parking available