Takasaki Town was selected seven times as "the beautiful city of Japan's starry sky" and the stars on the wide star sky twinkled. Many astronomical fans come from all over the country to this Observatory. You can observe the stars day and night.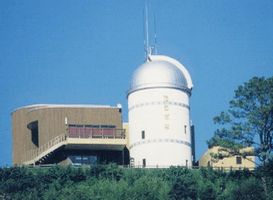 It is the Tensho Miyazaki Pref. Takasaki-cho Oyama Observatory, where ten stars have been awarded 10 consecutive times since 1987 as a city where the stars look the best in Japan. Located on the corner of Takasaki Town Sports Park, the first floor has a sub dome, the second floor has a training room and a planetarium with a diameter of 5 m, and the third floor has an astronomical dome room. doing. Do you not observe the stars with a large aperture telescope in Japan's cleanest city in Japan?
business hours

Daytime
10:00 to 15:00 ※ Closed: 15:00 to 19:00
Night 19: 00-22: 00 ※ The night is only Friday, Saturday, the day before the holidays
Reservation required on weekdays

closing day

Every Thursday
If Thursday is a public holiday, the previous day is closed.
Open at night during Golden Week, summer vacation, winter vacation, spring vacation, and each long vacation period.
Please contact us for a detailed period.

Stars guiding at the observation session (winter season)
4 planets

Venus ○ Shining in the morning in the east as the morning star. In the morning, you can observe it with the telescope of the Observatory.
Mars △ I can see it from the afternoon.
Jupiter × You may be able to watch during the day. I can not watch for a while at night.
Saturn × You may be able to watch during the day. I can not watch for a while at night.

Guidance of the star to observe

Daytime
Morning: Sun, moon, Venus, stars etc
Afternoon: Sun, moon, stars etc

Night time
We can enjoy winter stars.
※ The things shown are different depending on the weather and time.
※ We display the planetarium during rainy weather.
Locaiton
1461-22 Omuta Takasaki Town Miyakonojo City Miyazaki Prefecture
Phone 0986-62-4936
There is a parking lot (large bus parking is possible)