Observe the beautiful sky full of stars, selected as the best of Japan!
An observatory in Takasaki-cho, Miyakonojo City, which has been awarded for 10 consecutive years since 1987 as "the Best Stargazing Town of Japan".
The first floor is a sub dome, second floor is a training room and planetarium, and the third floor is the astronomical dome, equipped with observation equipment including a 500mm reflecting telescope, a 200mm refracting telescope, and a 400mm refracting telescope called "Sirius".
As the facility is made accessible, those in wheelchair are welcome to enjoy the stars.
It is also famous as a spot where you can observe not only the stars but also the sea of clouds.
*The operation hours and closing may be different from the listing. Please check the following URL for updates.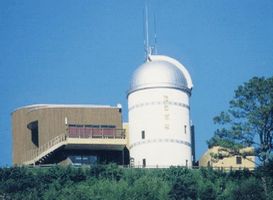 Facility Information
Address
1461-22 Omuta, Takazaki-cho, Miyiakonojo-shi, Miyazaki
TEL
0986-62-4936
Hours
10:00 AM to 3:00 PM * Closed during 3:00 PM to 7:00 PM
7:00 PM to 10:00 PM * Open at night only on Friday, Saturday, and the days before public holiday
Advanced booking required for weekday nights
Closed on
Closed on Thursdays
*If Thursday is a holiday, then the day before.
Closed at night during the Golden Week, Summer Break, Winter Break, Spring Break, and other long holidays.
Please contact us for more details.
URL
http://www.laspa-takazaki.jp/tenmondai/tachibana-tenmondai-index.html