It is a contact ranch that you can enjoy playing in the wilderness. There is also a handmade experience and a restaurant, and you can enjoy eating, playing and experiencing.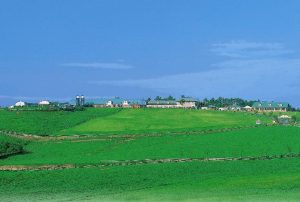 Takachiho Ranch where you can freely play on the green grass like carpet and feel the nature. There is also an "Animal Fureai Land" where you can meet cute baby calf and sheep like bambi. On the weekend, besides milking experience, riding experience, we also make hand made experiences of butter making and sausage making. You can experience dairy farming close by. The Takachiho Farm, which was established to be familiar to pastoral people, is free of charge for admission and parking. You can enjoy the experience, food and shopping at the literally green ranch. In addition, we are engaged in the biomass business in the first livestock production in West Japan, and ferment and decompose the excrement of livestock excrement coming out every day into methane gas and liquid fertilizer, and methane gas is used to generate electricity by a generator. It provides% electricity. Liquid fertilizer is returned to the field and is used to make the food for cattle.
Equipment outline
business hours
April to October 9:00 to 17:30
November to March 9:00 to 17:00
Please check the official website for the restaurant opening hours from 10:30 to 16:30. Takachiho Farm official site
Miyazaki Prefecture Miyagi Prefecture Miyagi Prefecture Yoshinomoto Town 5265 103
TEL 0986-33-2102
There is a parking lot (1,000 units) Notes Takachiho Farm has refused admission with pets (except for guide dogs and service dogs, etc.) for the prevention of infectious diseases.