Kirishima Shochu Brewery Garden Park famous for Shochu "Kirishima". There are full-scale shochu brewing facilities, cultural facilities, events and sports facilities, and restaurant facilities, and you can also tour the shochu factory.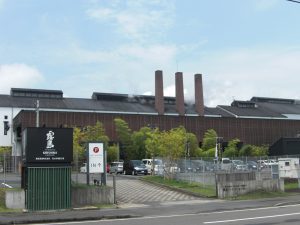 Kirishima Shuzo Co., Ltd. with a history of over 100 years in Miyakonojo City. We manufacture and sell shochu "Kirishima" which has become synonymous with shochu shochu. In particular, "Kurogirijima" is widely known throughout the country. The Kirishima Sake Brewery's direct-run shochu and craft beer garden park "Kirishima Factory Garden" has various facilities, and it is a place to spend all day. You can visit the factory, or go around the following facilities. Many events are held every season, and it has become a new tourist attraction. The following is reprinted from the official site of Kirishima Factory Garden
Mist Brewery
Craft beer brewing facilities and shops,
Restaurant Kiri no Bakery
Production and sale of bread and pizza by shochu moromi
Barrel storehouse and multipurpose hall of storehouse of shochu of mist
The hometown of the Museum of the Woods Koki Shochu,
Academic information dispatch on the theme of Kirishima Kirishima founding museum
Yoshisuke The foundation of the founding company built in 1924. Kirishima Risui's Fountain Kirishima shochu and the origin of the deliciousness of KIRISHIMABEER Ground golf course "Japan Ground Golf Association" certified ground golf course Kirishima shochu Shrine benefits "health longevity "" Business prosperity "" marriage "
Location
5480 Shihidacho, Miyakonojo City Miyazaki Prefecture
TEL 0986-21-8111
FAX 0986-21-8112
There is parking lot (200)