Tsumakirishima shrine is one of six gongen shrines. There are 999 steps of demon rock stairs,Kamiishi that is cut in half with a sword, and a 400-year-old cedar that looks like a dragon.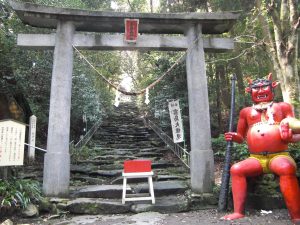 The god of worship is Izainaginomikoto Izanaminomikoto, and Niniginomikoto,konohanasakuyahime,Hikohiizurumikoto,toyotamahimenomikoto,Fukiaezunomikoto,Tamayorihimemikoto.
Founding is said to be the age of the fifth Emperor Kosho. Later, at the age of Emperor Murakami 62nd, the reign of the shrine, where the people of the airs burned down in the eruption. This shrine was lined up with one of the six Kirishima Gongen shrines, and was called "Adzuma-kirishima Gongen". Because it was located to the east of Kirishima, it was once referred to as "Adzuma- Kirishima"(Adzuma means east), and this is said to be the origin of the company name of "Tsuma-kirishima", Adzuma changed Dzuma and became Tsuma.
Location
1560 Tsumakirishima Takasakicho Miyakonojo City Miyazaki Oref.
Phone 0986-62-1713
There is a parking lot